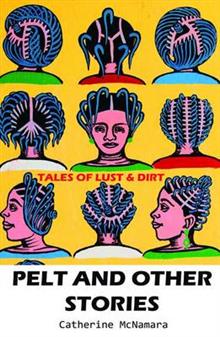 One of the things I am trying to achieve with my novel- in- progress is a strong sense of place. It's a topic I discussed in the critical part of my Masters' dissertation, citing the Newfoundland author Lisa Moore, who has said that her writing must reach "two notions of audience – those who know the the place you write about, and those who imagine it through the writing."
Those who imagine it through the writing.
Yes.
I don't know if I will achieve that strong sense of place, but Catherine McNamara definitely has. I've never been to most of the places she describes in Pelt and Other Stories  – gritty Africa, complicated Sydney, volcanic Stromboli – but strong descriptions and an eclectic cast of characters took this armchair traveller to their very soul. And, as always happens with good trips, the stories have stayed with me – like postcards stuck under the edge of a mirror, to be pulled out, turned over and read again.
You can buy Pelt and Other Stories on Amazon or direct from the publisher, Indigo Dreams Publishing.
**UPDATE** Cat tells me that the Pelt and Other Stories eBook will be selling at the special price of 99 cents from 16-18th December and from 19-22nd it will be priced at $1.99. After the 22nd it will return to normal price.